The Vortex Venom is a quality high performing Micro Red Dot Sight (MRDS).  We will review all the details to help you with your optic decision. Providing you with everything you need to know about this reflex sight
In this review of the Venom red dot sight, we will take a look at the features and technical specifications as well as what other red dot sight owners had to say about this MRD. 
Additionally, we will get into some frequently asked questions and look at some consumer reviews to this red dot sight.
Finally, we will provide the best place to purchase the Vortex Optics Venom Red Dot Sight when you are ready to buy.  
Already know what you want, then click here to purchase the Vortex Venom red dot sight, and you will be taken to Amazon.com, where you can read plenty more reviews, get fast shipping, and a great price.
Bottom Line Up Front
The Vortex Optics Venom Red Dot Sight is a quality reflex sight in a small, rugged form factor.
This sight's lightweight easy to access battery and controls, along with a proven ability to maintain accuracy under rigorous conditions, make the sight suitable for numerous pistol, shotgun, and rifle applications. 
The Vortex Venom is sure to meet the expectations of all levels of hunters, target shooters, or gun enthusiasts.
Are you curious how the Vortex Venom stacks up against the Vortex Viper? Check out our vortex venom vs. vortex viper comparison?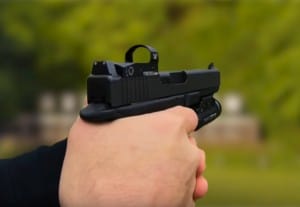 Vortex Venom Red Dot Sight Review
Let's start by detailing the best features of this optic and everything you get when you purchase this red dot sight. Also, we will review some technical specifications of this popular red dot sight.
Design
This micro red dot sight features a single piece rugged aluminum housing that provides a lightweight, low profile weighing in at a  mere 1.1 oz. The frame is finished with low glare matte hard coat anodization.
The weight of this reflex sight is perfect in handgun applications but also works great for those looking to use it for their shotgun or rifle rigs when hunting or shooting. The matte finish aids in signature reduction for when camouflage is essential.
The Vortex Venom Red Dot Sight has a wide field of view (FOV) with a great lens edge to lens edge resolution. Like all red dot and holographic sights, you can expect a nominal amount of parallax, which we would consider parallax free.
The sight uses o-ring seals to achieve a waterproof rating. Shooting optics with a waterproof rating are prone to a longer lifespan, as moisture and dust are kept from damaging internal electronics and fogged up lenses. 
The low profile combined with a wide FOV and unlimited eye relief allows for rapid target acquisition while still maintaining an unobstructed view of the target.  
Operation
Mounting this red dot sight is achieved with the supplied low rail mount for a Weaver/ Picatinny rail interface system. You can purchase other mount risers to achieve the right height for your specific applications.
A single CR1632 battery powers the Vortex Optics Venom Red Dot Sight. You can expect around 150 hours of operations at the highest settings. Set at the lowest brightness setting, a shooter may get approximately 30,000 hours of operation.
A great design feature is an easy access top-load battery compartment. The top-load battery design makes switching out batteries fast even in a pinch. You won't have to re-zero after changing the battery either!
The Vortex Venom red dot sight has ten reticle brightness settings that can be set manually or placed on auto mode. There are plenty of reticle brightness settings on this sight to paint your target in almost any light conditions.
Reticle
The Vortex Venom comes in two reticle size options. Model VMD-3103 with a single 3 Minute of Angle (MOA) red dot reticle great for added precision for intermediate distance shots.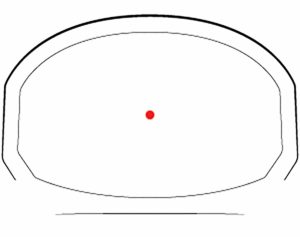 The sight also comes in a single 6 MOA red dot reticle, Model VMD-3106 for rapid dot acquisition in close quarters situations. 
Vortex Venom Specifications:
| | |
| --- | --- |
| Reticle | 3 MOA red dot |
| Brightness Setting | 10 Levels |
| Light Source | LED |
| Magnification | 1X |
| Unlimited Eye Relief | Yes |
| Parallax Free | Yes |
| Multi-Coatings | Yes |
| Battery Type | CR1632 |
| Battery Life | 150 Hrs @ highest setting |
| Adjustment per Click | 1 MOA |
| Windage Adjustment | 100 MOA |
| Elevation Adjustment | 130 MOA |
| Housing Material | Aluminum |
| Surface Finish | Anodized Finish |
| Housing Color | Matte Black |
| Weight (oz) | 1.1 oz |
| Window Size | .6547 inch area |
| Dimension | 1.9 inches in length |
Other Features
The Venom Red Dot Sight (VMD-3103) features adjustable windage and elevation knobs that yield 1 MOA of adjustment for each click. (1 MOA = 1.05 inches @100 yards). The max adjustments are 130 MOA maximum elevation and 100 MOA maximum windage. The adjustment knobs are easy to access.
The lenses of this reflex sight have anti-reflective coatings on all air-to-glass surfaces with a 1x magnification. The coating reduces glare that allows for a sharp, clear sight picture.
This optic also includes the Vortex Optics abrasion-resistant coating ArmorTek, which protects exterior lenses from scratches, oil, and dirt.  
Here is what is included:
(1)

Vortex Optics Venom Red Dot Sight (VMD-3103)

(1)

Weaver / Picatinny mount

(1)

T-15 Torx wrench

(1)

Rain cover

(1)

Lens cloth

(1)

Mounting screws

(1)

CR 1632 battery

(1)

Screwdriver
Check here for the Vortex Venom user manual.
If you are searching for a red dot sight for a pistol and want to check out other options visit our Top 5 Pistol Red Dot Sight Review.
The Pros
The Vortex Optics Venom Red Dot Sight (VMD-3103) has a straightforward, easy-to-operating design suitable for hunting or target shooting with a pistol, shotgun, or rifle platforms. 
The sights design makes it easy to access the battery without unmounting it and easy access to the elevation and windage adjustment knobs.
Being an MRDS, the optic has a small form factor and is ultra-light, making it an excellent choice for pistol applications.
The Cons
We are not thrilled about the placement and size of the base clamp screw, as it could potentially catch on some models of holsters or equipment.  
We also found that the auto mode for the reticle brightness may not always adjust to the perfect setting under some conditions. 
Where to buy the Venom Red Dot Sight (VMD-3103) by Vortex Optics?
We recommend purchasing the Vortex Optics Venom Red Dot Sight (VMD-3103) from Amazon.com, where you can find answers to frequently asked questions, fast delivery, and great price. 
Click here to see the Vortex Optics Venom Red Dot Sight (VMD-3103) at Amazon.com
Common Questions about the Vortex Venom
What's the difference between the Vortex Viper and Vortex Venom?
The Vortex Venom is slightly larger than the Vortex Viper. With the Viper, you will have to remove the optic to change the battery. Additionally, the Venom comes in two dot size options, while the Viper is only available with a 6 MOA dot reticle.
Is the Vortex Venom waterproof?
Vortex states that the optic is waterproof but does not provide any specifics such as an Ingress Protection (IP) rating or equivalent.
Where is the Vortex Venom made?
Even though Vortex Optics is headquartered in Barneveld, Wisconsin, the Vortex Venom optic is currently manufactured in the Philippines.
Does the Vortex Venom have auto shut off?
The Vortex Venom does not have a motion-activated on/off feature. It does have an auto-brightness mode that turns off the reticle when it encounters complete darkness.
Can I put the Vortex Venom on a shotgun?
The Vortex Venom is built to withstand recoil force and performs well on a shotgun.
Customer Feedback
At reddotsightreviews.com we like to see what other owners of this sight are saying about it
Customer feedback for the  Vortex Venom red dot sight rates it a  4.4 / 5 stars with over 890 reviews.
What shooters loved about this micro red dot sight:
Construction: Solid construction that held up under rigorous conditions while maintaining consistent accuracy.
Zeroing: Easy to mount and zero.
Warranty: All of the shooters love the unconditional lifetime warranty by Vortex Optics.
We recommend that if you are looking for a high performing micro red dot sight that you check this one out at Amazon.com
Click here to see the Vortex Optics Venom Red Dot Sight (VMD-3103) at Amazon.com
Variations:
Vortex Optics Venom Red Dot Sight with a 6 MOA reticle. 
Alternative Red Dot Sights Options:
If you are interested in a slightly more expensive reflex sight with some additional features, then check out our review of the Nikon P-Tactical Spur Reflex Sight or the Burris Fastfire 3.