The Vortex Crossfire Red Dot CF-RD2 is upgraded for 2020 bringing a significant increase in battery life while maintaining its well-earned reputation as an AR enthusiast favorite.
In this review or the Vortex Crossfire Red Dot Sight (RDS) we dive into the features of this optic and layout all of its specifications and details responsible for the loyal following this sight has established.
There is no doubt, that if you are in the market for a new red dot sight to mount on your favorite rifle or shotgun, weighing the Crossfire as an option is a wise move.
Wait, are you tired of reading reviews and just want to purchase the Crossfire RDS so you can get to shooting right now?
You should go straight to Amazon and get this AR enthusiast favorite red dot sight and take advantage of a great price, and the fastest shipping you can find along with additional details and customer feedback.
Click here to purchase the Vortex Crossfire Red Dot Sight Gen2 (CF-RD2) at Amazon.com
Bottom Line Up Front
Updated for 2020 the Vortex Crossfire Red Dot Generation 2 comes with a substantial increase in battery life. All while maintaining a reasonable price point for a quality red dot sight.
The sight maintains all of its previous features and what I would call one minor annoyance. Continued quality and excellent warranty make the Vortex Crossfire red dot sight an excellent optic in this class.
Vortex Crossfire Red Dot Review
In my opinion Vortex Optics continues to meet its customer's expectations to deliver quality optics for shooters of all types. The Crossfire Red Dot Sight in its generation 2 update is a great example of Vortex's commitment to its customers. The Crossfire Red Dot is suitable for beginning to expert shooters for all platforms.
Even though this red dot optic has been spotted on all manner of firearms, from pistols to shotguns, rifles, and even crossbows, it really has become an all-time favorite for AR-style platforms connoisseurs.  
Crossfire Gen 2 Top Features
Design
The sight is constructed out of aluminum for a tough and lightweight frame that has proven tough under various environmental conditions and shooting scenarios.
The overall length of the Crossfire is 2.5 inches with 1.1 inch diameter objective and ocular lens. The weight of the sight is 5.2 oz.
This optic has a durable anodized low glare matte finish and nitrogen purged o-ring sealed chassis that provides moisture, dust, and debris resistant operation.
I have yet to find the Ingress Protection (IP) rating for this site, but according to the manufacture, the optic is waterproof.
Reticle
The Vortex Crossfire red dot sight comes in a single reticle option, sporting a 2 MOA (Minute of Angle) LED illuminated red dot.
It has been my experience that the smaller the reticle size the better. It allows for more accurate placement of rounds as well as excellent target identification/acquisition, especially at increased distances.
There are 11 reticle brightness settings. Eight of the settings are for daylight conditions with the remaining lowest 2 settings reserved as night vision compatible options.
You will find the brightness setting range of the Crossfire sufficient for all light conditions and backgrounds encountered by most shooters.
Illumination brightness is controlled through a large dial on the right side of the sight. The dial provides just the right amount of tactile distinction between settings. The night vision settings are labeled N1 and N2 on the dial.
Operation
Vortex Optics designed the Crossfire RDS for simplistic straight forward operation. The sight features a single dial to turn the reticle on/off and set the brightness.
Remember the one minor annoyance I mentioned above?
It is the fact that the reticle brightness dial stops at its extreme settings requiring you to move it all the way in the opposite direction instead of continuing on in the same direction.
The sight has two point of impact adjustment knobs . The elevation adjustment knob is located on the top of the optic while the windage adjustment knob is located on the right side.
Adjusting the elevation or windage by one click will move the point of impact by 1 MOA or one inch at 100 yds. The adjustment knobs provide both a tactile and audible click and are protected by screw on turrets.
The Vortex Optics Crossfire Red Dot Gen 2 utilizes a CR 2032 3 volt lithium coin battery providing 50,000 hrs of operation while on the level 6 reticle brightness setting.
The battery is side mounted within the reticle brightness dial making access and battery changes a snap.
Mounting
The Crossfire Red Dot Sight comes with two mounting height options out right out of the box.
The sight includes a low height mount and a lower 1/3 co-witness mount both of which require your firearm to be equipped with a Picatinny or Weaver-style rail/base.
Tighting of the base clamp bolts are achieved with the provided hex wrench.
Details
Included with your purchase:
(1) Durable rubber cover
(1) T-10 Torx wrench
(1) CR 2032 battery
(1) Lower 1/3 co-witness mount
(1) Low height mount
(1) Set of Mounting Screws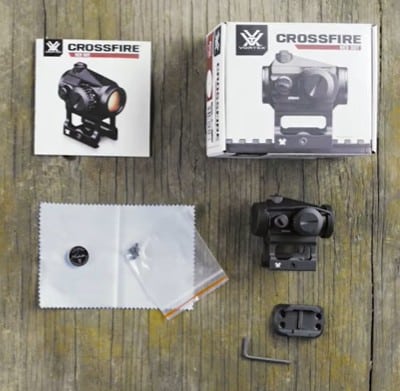 Additional Top Features
Vortex Optic VIP Warranty
According to Vortex Optics, the will "repair or replace your Vortex product in the event it becomes damaged or defective—at no charge to you." And if they can repair the product they will replace it.
The VIP warranty is good for all red dot sights and carries a Unlimited Lifetime Warranty that is fully transferable, no receipt needed.
Now I have never had to use the warranty so I searched high and low for customers who were disappointed with the warranty. And to my surprise, almost everyone praised the customer service and the warranty.
Click here to purchase the Vortex Crossfire Red Dot Sight Gen2 (CF-RD2) at Amazon.com
The Vortex Optics Crossfire Red Dot Sight Gen2 Specification Overview:
| | |
| --- | --- |
| Reticle | 2 MOA Red Dot |
| Brightness Settings | 8 daytime -2 night vision compatible |
| Light Source | 11 Levels |
| Magnification | 1x |
| Unlimited Eye Relief | Yes |
| Parallax Free | Yes |
| Multi- Coatings | Yes |
| Battery Type | CR 2032 |
| Battery Life | 50,000hrs @mid brightness setting |
| Adjustment per Click | 1 MOA |
| Windage Adjustment | 100 MOA |
| Elevation Adjustment | 100 MOA |
| Housing Material | Aluminum |
| Surface Finish | Anodized Finish |
| House Color | Matte Black |
| Weight (oz) | 5.2 oz |
| Dimensions | 2.5 inches in length |
The Pros
The Vortex Crossfire Red Dot Sight (CF-RD2) has 50,000 operational hours of battery life when using the level 6 brightness setting.
The optic is easy to operate with a very low learning curve making it perfect for new shooters and red dot sight owners.
Manufactured by a trusted name in shooting optics, Vortex Optics.
Modestly priced sight in its class, with a highly regarded warranty.
The sight comes with 2x mounting options, eliminating the need to purchase additional mounting brackets for most firearm applications.
The Cons
Windage and elevation turrets are not tethered.
Illumination dial does not go past 360 degrees.
Vortex Crossfire Red Dot (CF-RD1) Vs Vortex Crossfire Red Dot Gen 2 (CF-RD2)
So what is the difference between these two optics? Well after a little poking around we discovered that Vortex replaced the Light Emitting Diode (LED) in the gen 2 model allowing for the extended battery life.
The original model has a battery life of 7,000 hours while the generation 2 model boasts a whopping increase to 50, 000 operations hours.
Where to buy the Vortex Crossfire Red Dot Sight (CF-RD2)?
I would recommend purchasing the Vortex Crossfire Red Dot Gen2 from Amazon.com, where you can also find answers to frequently asked questions, the best price, and fast delivery.
Click here to purchase the Vortex Crossfire Red Dot Sight Gen2 (CF-RD2) at Amazon.com
Customer Feedback
When doing a review of any item we here at reddotsightriews.com like to include what others have to say about it.
Customers give the Vortex Crossfire Red Dot Sight 4.7/5 stars with over 57 reviews.
Brightness: Easy control with adequate brightness levels making it usable for in every light condition.
Value For Money: You get a lot of optic for the price, that performs exceptionally well in varying conditions.
Accuracy: The dot is crisp and clear making accurate shot after shot easy and reliable.
I would recommend this optic to anyone in search of a red dot sight, as it provides all the necessities and none of the fluff for a great price.
Click here to purchase the Vortex Crossfire Red Dot Sight Gen2 (CF-RD2) at Amazon.com
Alternative Red Dot Sights
If you are looking for an alternative to the Vortex Crossfire, we highly recommend our favorite optic at this price point, the Holosun HS403B. You will get more features and quality for just a few dollars more.
You can also check out the Sig Sauer Romeo5.
And remember to Keep Both Eyes Open!