Are you searching for a reasonably priced reddot sight with great optics for hunting of shooting?  We take an informative look at the Nikon Spur red dot to answer all of your questions.
Alright, in this review we are taking a look at the Nikon P-Tactical Spur Reflex Sight (16532). This is Nikon's first reflex red dot sight to market that seems to have grown a following among many target shooters, hunters, and sport shooters.
We will cover the features as well as technical specifications for this red dot sight (RDS) and include some comments from shooters about the Nikon P-Tactical Spur so you can decide if this is the best reddot sight for you.
Additionally, we will provide our top recommendation on where to purchase the Nikon P-Tactical Spur reflex sight when you decide to buy.
Nikon Spur Bottom Line Up Front
The Nikon P-Tactical Spur reflex sight is a lightweight red dot sight (RDS) with proven optics that deliver a high-quality crisp reticle and target image. A small form factor and rugged construction make this reflex sight a versatile optic suitable for many shooting applications. All for one of the lowest price points for sights in this class.

Mount this on your favorite hunting rifle or shotgun and increase you will be ready to go when that trophy enters your field of view.   We would even mount one on a carbine or pistol and head out the range for a fun time putting rounds on target quickly and with increased precision.

What to get  Nikon P-Tactical Spur reflex sight (16532) right now?  Click here, and go straight to  Amazon.com, where you can see customer reviews, get a fantastic price, and of course, fast shipping.

amzn_assoc_placement = "adunit0"; amzn_assoc_search_bar = "false"; amzn_assoc_tracking_id = "greatopp-20"; amzn_assoc_ad_mode = "manual"; amzn_assoc_ad_type = "smart"; amzn_assoc_marketplace = "amazon"; amzn_assoc_region = "US"; amzn_assoc_title = "Other Great Red Dot SIghts"; amzn_assoc_linkid = "63e255550aec67782bd393b1f9004177"; amzn_assoc_asins = "B00S2P2J90,B00S2P2LXO,B07BRVV3Z5,B00NWIYAD0";
Nikon P Tactical Spur  Review
Nikon's first entry into the Micro Red Dot Sight (MRDS) market seems to have made a impression on some folks. For a entry level optic the P-Tactical Spur is a safe choice that provide the average user clear target views and a sharp reticle perfect for going to the range or sitting in your favorite stand.
Top Features of the P-Tactical Spur Red Dot Sight
Design
The P-Tactical Spur is a compact and lightweight reflex sight constructed from aluminum alloy.  This tactical optic is shockproof guarding against recoil and harsh conditions common to most hunting, target shooting, or other firing environments. Weighing just 1.1 oz shooters will find firearm handling and balance unaffected.
This red dot sight has a wide field of view (FOV) with unlimited eye relief through a 27mm viewing window allowing for fast and easy target acquisition.  The P Tactical Spur reflex sight is also industry-standard parallax-free keeping the reticle on target regardless of head position.
Based on Nikon's testing conditions the sight is waterproof equivalent to Japan Industrial Standards (JIS) / International Electrotechnical Commission (IEC) protection class 7 or  (IPX7) and is suitable for shooting environments with high humidity, dust, or rain without risking damage to the operation of the reflex sight.
According to this standard, this red dot sight is capable of withstanding submersion in up to 1 meter in depth underwater for 30 minutes. This rating is more than adequate for most shooting conditions giving you the freedom and confidence to deploy the reflex sight for just about any firing application or environment.
Its Nikon, so you can expect quality lenses. The Nikon P-Tactical Spur reflex sight is constructed with 1 x magnified multicoated Nikon Truecolor optics that reduce blue tint, common in most reflex sights.  This RDS provides you with a crisp, both eyes open viewing experience for target awareness and rapid sight picture acquisition.
Mounting
The P-Tactical Spur red dot sight can be mounted on a Picatinny standard rail interface system directly out of the box. The mount operates with a split bracket and hex bolt that you adjust with the supplied torque wrench.  The hex bolt is countersunk, and the mounting bracket has no protruding edges reducing snagging of holsters, tactical equipment, or shooting gear.
Operation
A single 3V CR1632 lithium battery powers the P-Tactical Spur red dot sight. In perfect conditions, you can expect close to 15,000 operating hours from this battery type. There is an auto-off function that automatically turns the device off if not operated for 12 hours to save battery power.
Additionally, the sight has a low battery warning feature. The red dot reticle flashes to indicate that it is time to replace the battery. Replacing the battery is easy to accomplish since the battery is accessible from the top of the sight allowing for easy access and rapid battery replacement with the provided battery chamber cover tool if the need arises.
Windage and elevation adjustments are achieved, utilizing the provided flat driver. One-click of the adjustment screw is equal to 1 MOA (approximately 1 in. @ 100 yds.). On the complete revolution of the adjustment screw is equal to 30 clicks. There is a total of 130 MOA adjustments for windage and 130 MOA adjustments for the elevation.
Reticle
The Nikon P-Tactical Spur has a  3 Minute of Angle (MOA) red dot reticle.  Two digital switches control the sight for on/off and reticle brightness adjustment. This red dot sight has ten brightness levels. Levels 1-2 are suitable for night time operations and are night-vision compatible with the remaining levels 3-10 for use in daytime or high light levels conditions. The ten levels of reticle intensity are standard nowadays, and you will find that the level 10 brightness works great even in intense sunlight
Click here to check out the Nikon P-Tactical Spur Reflex Sight (16532) at Amazon.com
Here is what you get  with your purchase:
Attached mount base
Cover
CR1632 lithium battery
Dual-use wrench
Hex key
Cleaning Cloth
See the Tactical Spur user manual here
[table id=4 /]
Pros vs Cons for the P Tactical Spur
The Pros
Nikon P-Tactical Spur Reflex Sight is lightweight and durable with everything you will need for hunting, shooting, or other firearm applications.
You will appreciate the low battery indicator and automatic shut-off, ensuring a ready to go reflex sight.
Clear crips sight pictures are a great feature compliments of Nikon's experience in the production of quality optics.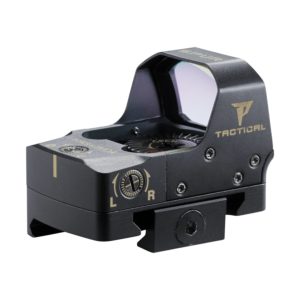 The Cons 
This Nikon Spur red dot sight does not have motion-activation which is a feature most shooters have come to expect. 
The sight has some limitation with mounting options.
Where should you buy the  Nikon P-Tactical Spur Reflex Sight (16532)?
We recommend purchasing the Nikon P-Tactical Spur from Amazon.com where you can get additional product descriptions, answers to frequently asked questions, fast delivery, and a great price.
Click here to check out the Nikon P-Tactical Spur Reflex Sight (16532) at Amazon.com
Customer Feedback for this Reflex Sight
Taking a looking at the feedback the Nikon P-Tactical Spur Reflex Sight has gotten an overwhelming majority of 5-star reviews.
Some of the things people loved about this red dot sight were the:
Optic: Very clear optics and bright reticle thanks to the TRUCOLOR lenses. Easy to focus on the target.
Battery life: The use of a lithium battery gives this MRDS extended operating hours.
We recommend that if you are looking for an excellent performing reflex sight, that you check this one out at Amazon.com
Recommend alternative reflex sights to the Nikon SPur:
If you are curious about the Nikon Spur vs the Vortex Venom, then check out our review of the Vortex Optics Venom Red Dot Sight.
For our number one MRDS pick,  don't miss our exhaustive review here for the Trijicon RMR Type 2.