Check out this top pick red dot sight that won't break the budget? You're in luck. We will cover the Ultra Shot M-Spec with an in-depth review to help make your decision easy.
Today we are going to take a look at the Sightmark Ultra Shot M-Spec Reflex Sight (SM26034). Since its release, this optic has proven a prevalent red dot sight for hunters and shooters looking for a rugged optic for short to mid-range firing situations.
We will take a look at all of the features and technical specifications as well as insight as to what other shooters have to say about this reflex sight.
We will also provide the best place to purchase this solid performer if you decide that this is the one for me.
Ultras Shot M-Spec Bottom Line Up Front
The Sightmark Ultra Shot Military Specification (M-Spec) Locking Quick Detach (LQD) Reflex Sight is a rugged, lightweight, versatile shooting optic suitable for various high demand short to intermediate-range applications. Intuitive and ease of use with a balance of straightforward controls and all the features any avid shooter would want at an excellent price point make this reflex sight from Sightmark a smart buy.
There is plenty of bang for your buck, and if you are in the market for a hunting or shooting sight and want to purchase the  Sightmark Ultra Shot M-Spec, then, click here and you will be taken to Amazon.com where you can see even more reviews, super fast shipping, and a fantastic price.
Click here to check out the Sightmark Ultra Shot M-Spec Reflex Sight at Amazon.com
The RedDot Sight Review
Let's get started by covering the features and everything you will get with this popular reddot sight.
Features
This reflex sight has a robust housing cast from lightweight magnesium alloy for a tough outer body construction that includes a protective hood. The Sightmark Ultra Shot M-Spec additionally has a patented integrated sunshade that will prove useful in bright sunlight and other intense light conditions. The magnesium alloy is stronger than 6061 aluminum alloy without the weight, bringing the optic in at 10.2 oz. Ideal for keeping the weight down on whatever firing platform you decide to mount the sight on.
A more substantial form factor allows for a shockproof frame that can withstand recoils up to .50 caliber. The larger form also allows for a wide field of view (105 [email protected]) along with the standard unlimited eye relief, which is one of the advantages of a reflex sight.
When it comes to mounting, the M-Spec Reflex Sight with Locking Quick Detach is ready to install out of the box to a Weaver/Picatinny military standard rail interface system. It operates with an adjustable single lever arm that folds to the rear allowing for a fast solid mount with no play. The lever also features a locking slide to ensure that the sight in not unseated by gear snags or something similar.
The sight has an IP68 waterproof rating with a manufacturer specified submersion depth of 40 feet. With this rating, you can expect this reflex sight to stay dust and moisture-free, ensuring a fully operational sight when you need it.
A single CR123A battery powers the Sightmark Ultra Shot M-Spec Reflex Sight. With a low power consumption design, you can expect a battery life of up to 2,000 hours. The sight has a built-in low battery indicator along with a 12-hr auto shut-off for those days when you forget. The sight can also be configured with a motion-sensing on/off activation that turns the reticle off after five minutes and on again with movement. These setting options will go a long way, achieving an extended battery life and ready optic for when its go time!
The sight has a red 65 Minute of Angle (MOA) ring reticle for rapid target acquisition with a 2 MOA center dot for more precise shots. The sight is controlled by a single digital switch for on/off and reticle brightness adjustment. The sight has six reticle brightness levels for daytime use and six reticle settings in night vision mode allowing the use of the sight with generation 1,2 and 3-night vision systems.
The Sightmark Ultra Shot M-Spec Reflex Sight features the Interlok adjustment system. The Interlok adjustment system is an internal retention system that ensures windage and elevation adjustments remain zeroed during recoil. Most reflex sights typically require the adjustment system to be unlocked using a screw or set of lock screws. The windage and elevation adjustments are in 1 MOA increments. The changes are made with the included Allen wrench. The Interlok adjustment system removes the need for a locking screw so shooters can make adjustments on the fly!
The lenses are constructed of dual-pane glass with scratch-resistant red anti-reflective (AR) coating. With a parallax-corrected lens system, the Ultra Shot allows shooters to sight accurately from 10 yards to infinity and maintain a hard to detect posture until shots are fired.
Here is what is included:
Sightmark Ultra Shot M-Spec Reflex Sight (SM26034)
Neoprene cover
Adjustment tools
CR123 battery
Operating Manual
The Pros
The Sightmark Ultra Shot M-Spec Reflex Sight has all the needed features housed within a durable, lightweight chassis making this sight a reasonable choice for short to intermediate-range hunting and shooting applications in austere environments.
The price point for this red dot sight is less than $200.00, making it an easy pick for those just getting into the market and seasoned red dot sight users alike.
The design and controls for the Sightmark Ultra Shot M-Spec Reflex Sight are intuitive, allowing for immediate and smooth operation with minimal learning curve even for a newer shooter.
The Cons
Adjustment for the tension on the Locking Quick Detach mount requires you to remove the optic altogether to make the adjustment and then remount.
Best place to buy the Ultra Shot M-Spec Reflex Sight by Sightmark?
We recommend purchasing the Sightmark Ultra Shot M-Spec Reflex Sight (SM26034) from Amazon.com, where you can see full product description and frequently asked questions and answers, not to mention that you get ultra-fast delivery.
Click here to check out the Sightmark Ultra Shot M-Spec Reflex Sight at Amazon.com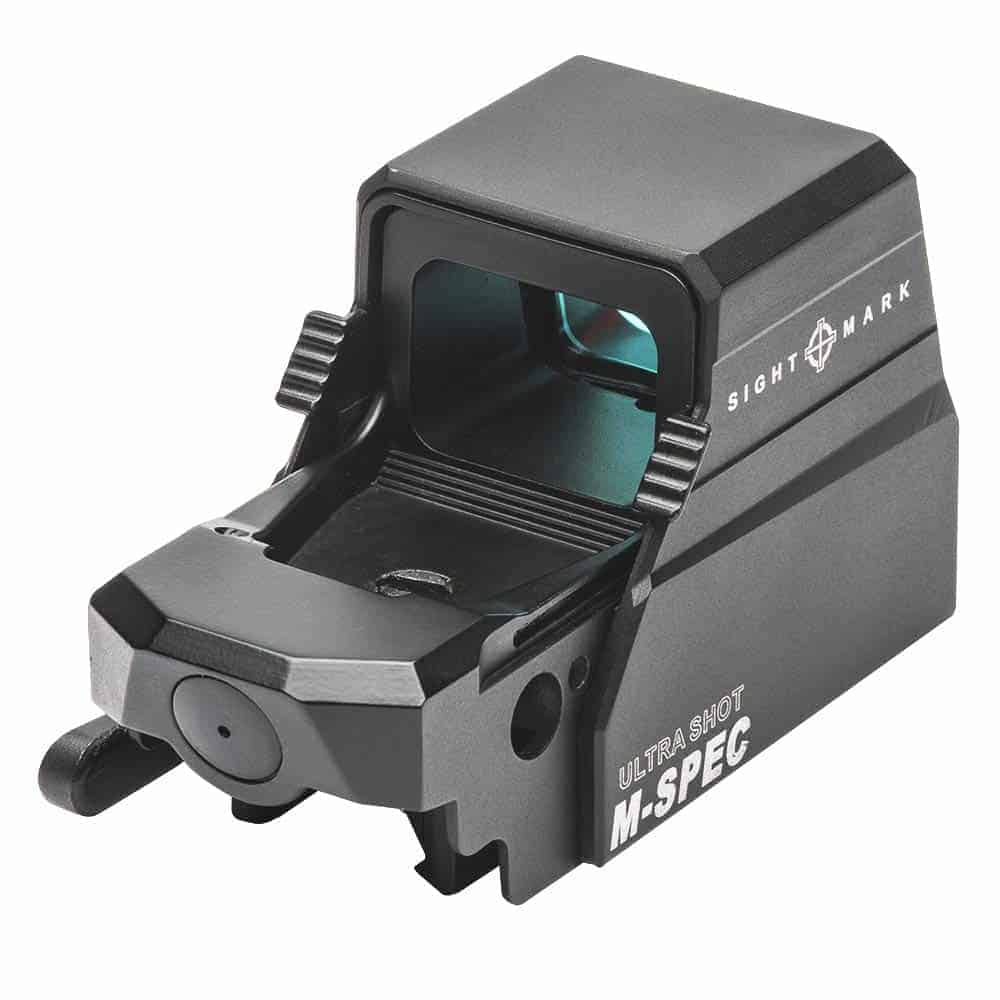 Customer Feedback
Taking a looking at the feedback, the Sightmark Ultra Shot M-Spec Reflex Sight has gotten 4.4 / 5 stars with an overwhelming majority of the shooters giving it a 5-star review.
Some of the things people loved about this reflex sight were the:
Construction: Durability that withstood severe conditions, high caliber recoil, and heavy use all while maintaining zero.
Controls: Easy to use controls with just the right number of settings to address almost any shooting application.
Optic: Crisp, clear optics and reticle make for rapid target acquisition.
We recommend that if you are looking for an excellent performing reflex sight, that you check this one out at Amazon.com.
Click here to check out the Sightmark Ultra Shot M-Spec Reflex Sight at Amazon.com
Alternative to the M Spec.
If you have a few dollars more to spend and want a reflex sight with a slew of features then check out our review of the Holosun HS510C reflex sight here.