Looking for a compact reddot sight?  Read this Sig Romeo5 review and see why this compact red dot sight hits all the marks for a broad host of shooting applications. Be it rifles, shotguns, carbines, submachine guns, or handguns this sight brings you utility for a price that is hard to beat.
Today's review is of the Sig Sauer Romeo5 1x20mm Compact Red Dot Sight (SOR52001). We will provide you with all of the information there is on this quality little optic and hopefully, answer all of your questions.
In this review, we will cover all the features and technical specifications. We will highlight the pros and cons of this sight.  Additionally, we will take a look at what other shooters have to say about the Romeo5. Finally, we will recommend the best place to purchase this best selling Red Dot Sight (RDS).
If you don't have time to read the full review and are ready to purchase the Sig Romeo5, then you can click here and go straight to Amazon.com for simply an awesome price and fast shipping.
Click here to check out the Sig Sauer Romeo5 1x20mm Compact Red Dot Sight (SOR52001) at Amazon.com
Red Dot Sight – Bottom Line Up Front 
The Sig Sauer Romeo5 1x20mm Compact Red Dot Sight is a bestseller that delivers all-around performance suitable for an array of shooting platforms. A great option for carbines, shotguns, pistols, and rifles this red dot sight delivers top performing optics in a compact rugged tub style form factor able to withstand a variety of shooting conditions.
This lightweight compact sight delivers a crisp red dot reticle and clear object viewing with unlimited eye relief for quick target identification and rapid target acquisition. Firearm handling and balance are unimpeded with a smart design weighing only 5.1oz. Hunters or shooters will appreciate the intuitive operation for fast set up and ease of employment.
The Romeo5 delivers great performance and reliability for an unbelievable price. If you are looking for a reasonably priced versatile reddot sight then consider the Sig Romeo5. 
Romeo5 Review
Sig Sauer's Romeo5 1x20mm Compact Red Dot Sight has achieved bestseller status by incorporating a rugged form factor, quality features, and a comfortable price point. All of this makes it an extremely versatile reflex sight suitable for a broad array of shooting platforms employed in almost any condition. 
Top Features of the Sig Sauer Romeo5 Compact Red Dot 
Motion Activated 
The Romeo5 is outfitted with Sig Sauers Motion Activated Illumination (MOTAC) feature that powers up the sight reticle when it senses movement. Conversely, if the optic remains at rest without any motion for 2 minutes the reticle will power off. Motion-activated reticles enjoy the benefit of extended battery life keeping the Romeo5 ready for action when it's needed. 
Lenses 
You can expect clear viewing through this 1x magnified sight with lenses that have excellent light transmission. This red dot sight includes glass lenses coated with Spectracoat. This lens coating is highly efficient and enables viewing across ultra-wide broadband of the visible light spectrum.
The coating has excellent anti-reflective qualities reducing surface reflections to extremely low levels. The lenses deliver quality viewing under a large variety of lighting levels making target identification and acquisition quick and easy all with the added benefit of a reduced signature for when a stealthy approach is required.  
Reticle
The Sig Romeo5 utilizes a 2 MOA red dot reticle. The reticle has 10 illumination settings selected through plus and minus buttons located on the top of the optic. Eight of the setting are for daylight and other bright light operating environments.
The remaining 2 settings are for night vision or low light operating environments. With 10 illumination levels, the sight is able to function in almost all light conditions given the shooter or hunter plenty of options for employment.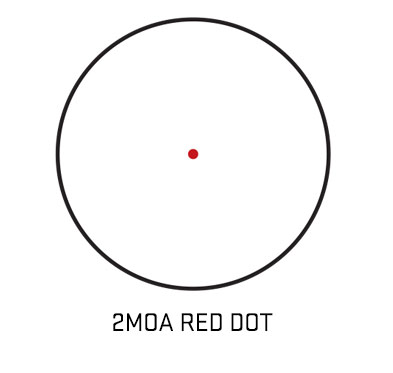 If you you are interested in a red dot sight with a larger reticle and the option to switch between a red or green dot then see our Voretex Strikefire II review for all of the details.
Design
This reddot sight has a compact tub style form factor made with a matte finished aircraft-grade aluminum chassis weighing only 5.1 oz. It is designed with Sig Sauers reflection armor trapezoidal surfacing. The surfacing is intended to break up the cylindrical shape and visibility of the optic aiding in signature reduction of the shooter. 
The sight has Ingress protection of X7 (IPX-7).  This rating means that the optic can withstand immersion in up to 1 meter of water.  With this rating, you can expect excellent dependability and fog proof operation under wet and high humidity conditions.  
Mounting
The sight is ready to mount on a standard Picatinny/MIL-STD-1913 rail. Included is a 1.41-inch riser for a co-witness mounting option. Additionally, the sight includes a low profile mount more suited for pistol and shotgun setups. The mount is operated with the included T10 Torx wrench. Switching between mounting options is easy  
Operation
The Romero5 has a maximum windage and elevation adjustment of +/- 40 MOA. The adjustments are in .5 MOA increments with a flat edge utilizing top and side-mounted adjustment knobs. With .5 MOA adjustments, you can achieve a level of precision that will allow for accurate shooting from close to intermediate distances. And with the rugged design, you can expect no change of Point of Impact (POI) no matter how many rounds you put through your rig. 
The sight uses a single CR2032 lithium coin cell battery that will provide up to a 40,000 + battery life depending on what illumination setting is used. Changing the battery is accomplished from the side. This reflex sight is considered parallax-free so you can expect the point-of-aim to be the point-of-impact. The sight has unlimited eye relief so you can acquire your target from any eye position behind the sight. 
Click here to check out the Sig Sauer Romeo5 1x20mm Compact Red Dot Sight (SOR52001) at Amazon.com
Details
Here is what is included:
Sig Sauer Romeo5 1x20mm Compact Red Dot Sight (SOR52001)

Co-Witness 1.41 inch Riser

A  low profile mount 

A  CR2032  battery

Lens cloth

Lens covers

Adjustment tool

T10 Torx wrench
Other Features:
Covered by the Sig Sauer Infinite Guarantee and Electronics Limited Warranty. This is a 5-year warranty. 
The Romeo5 has an overall length of 62.2mm with a width of 38.1 and a height of 35.6 mm, weighing only  5.1 oz making it the lightest of the Romeo5 series. 
It comes with a bikini style lens cover to keep the high performing optics safe until you are ready to put them into action. This type of lens cover is quick and easy to remove in a pinch.
Simple intuitive operations with easy on/off and reticle adjustment via two digital switches.
Uses the readily available CR2032 battery that is side-loading for quick battery replacement.
The Romeo5 specifications overview:
Battery Type CR2032 3V Lithium Coin
Brand Sig Sauer
Click Value 1/2 MOA
Eye Relief Unlimited 
Illuminated Illuminated
Maximum Magnification 1
Minimum Magnification 1
Night Vision Compatible Yes, 2 Settings
Objective Diameter 20mm
Reticle 2 MOA
Total Elevation Adjustment +/- 40 MOA
Total Windage Adjustment +/- 40 MOA
Turret Features Screw cap cover, Tool Adjustable
Type Fixed Magnification
Weight 5.1 Oz
Pros vs Cons
The Pros 
Lightweight solid construction for a non-intrusive red dot sight application that enhances your shooting operation not hindering it.
The Romeo5 sight allows for ½ MOA incremental adjustments for precision zeroing increasing accuracy at close and intermediate-range engagements.
Two mounting height options included one for low mounting application and one for co-witness applications perfect for rifle or carbine platforms. 
Crisp reticle and object viewing that aid in rapid target acquisition for fast engagement situations. 
Low price point for a reliable optic with a versatile application making it perfect for hunting or shooting with a rifle, carbine, shotgun or handgun. 
The Cons
Limited reticle option,  with only a single 2 MOA available in this model. 
Best place to buy the Sig Sauer Romeo5 (SOR52001) 
Our recommendation is to purchase the Sig Sauer Romeo5 1x20mm Compact Red Dot Sight (SOR52001) at  Amazon.com. Here you will find additional information on this best selling red dot sight, more customer reviews, and low price.
Click here to check out the Sig Sauer Romeo5 1x20mm Compact Red Dot Sight (SOR52001) at Amazon.com
Customer Feedback for this Red Dot Sight
The Sig Sauer Romeo5 Red Dot Sight has a 4.6/5 stars with over 780 reviews. Eighty -four percent are five-star reviews.
What shooter hunters and gun enthusiasts liked about this sight:
Optics: The lenses delivered a clear viewing experience with a crisp red dot that did not wash out.
Construction: Rugged optic that endured shot after shot without any change in the POI. 
Price: One of the best RDS for the price, competes with other more expensive reddot sights.
Versatile: This reflex sight has multiple applications equally useful on a carbine or a pistol.
Click here to check out the Sig Sauer Romeo5 1x20mm Compact Red Dot Sight (SOR52001) at Amazon.com
Variations:
The Sig Sauer Romeo5 comes in four other models that you can check out below.
Check out the Sig Sauer Romeo5 2MOA Compact Red Dot Sight (SOR52101) at Amazon.com
Check out the Sig Sauer  Romeo5 XDR Compact Red Sight (SOR52102) at Amazon.com
Check out the Sig Sauer Romeo5 XDR Predator Green Dot Sight (SOR52122) at Amazon.com
Check out the Sig Sauer Romeo5 Red Dot with Juliet 3X Magnifier (SORJ53101) at Amazon.com
Alternate options:
If you are looking for an alternative to the Sig Sauer Romeo5, we highly recommend our favorite optic at this price point, the Holosun HS403B. You will get more features and quality for just a few dollars more.
You also may like Vortex Optics Crossfire.